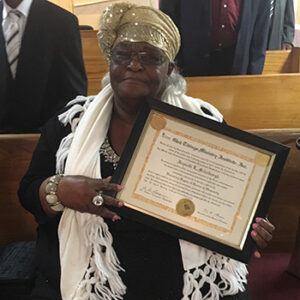 Icynth is our Resident Council President here at Palm Garden of West Palm Beach.
She is a humble soul who considers Palm Garden of West Palm Beach, home. She can't think of a better place to be!
Icey came to Florida in 1975 from Jamaica. She became a Certified Nursing Assistant with an outstanding career for over 15 years. Most recently, Icey is the proud recipient of the Honorary Doctorate Degree in Humanity as an Ordained Evangelist Minister.
Icey received this outstanding Degree on Sunday at the Joy of Living New Testament Church of God. She was joined by her Palm Garden Family and Friends in attendance.